Content Marketing for web designers matters and understanding how it works together is important. Did you know that 94% of people will reject a website only because of the wrong web design? This article deals with web design in the context of content marketing, and how the two work together to provide an outstanding user experience.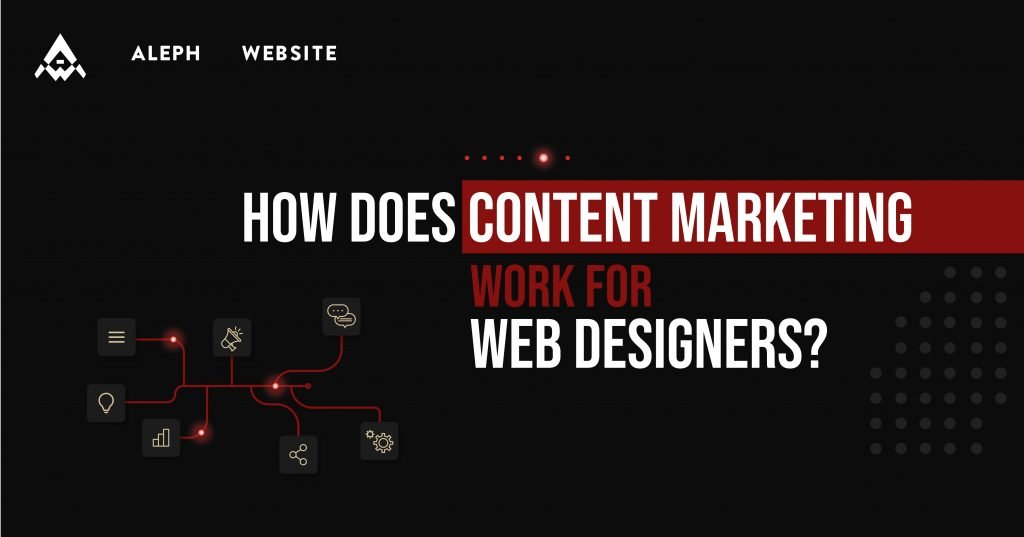 The truth is you can't have excellent content without an appealing design, and vice versa. These two have to work together to drive traffic to your website.
If you're wondering how to adjust your web design to content marketing, this article is for you.
You'll learn everything about content strategies to improve your user experience.
Let's dive right in!
---
WHAT IS WEB CONTENT MARKETING?
If you're still thinking of traditional marketing campaigns to pitch your service or product, we suggest you let it go.

Content marketing is an inbound marketing strategy that will build your online audience effectively.
Content marketing is about creating valuable, helpful, and relevant online content for your target audience. You are providing the solution for the problems and needs they have.
It has a lot of advantages, and some of them are:
It increases your conversion rate six times higher than any other marketing strategy;
Drives more traffic to your website;
Your marketing efforts will cost less.
And last but not least, it will build trust with your customers since it will introduce you as an expert in your niche! If you want to see how that looks, check out our article on the Porsche Carrera content marketing example.
CONTENT MARKETING TYPES
Your content marketing approach depends on your target audience's interests and needs.
Besides that, your industry, goals, and capacities define what content type suits you the best.
There are so many different types of content you can produce on your website, and this is just the tip of the iceberg:
Blog posts — A simple way to introduce the audience to your business. Storytelling packed with good web design in your blog is a game changer.
Offsite articles — Articles for another website, will bring you a new, already-interested audience.
Downloadables — E-books, checklists, manuals, and infographics are a great lead magnet and expertise indicator.
Newsletters — Email marketing will maintain the bond with your leads once they give you their email addresses.
Webinars — Real-time opportunity for you to meet and connect with the audience and answer their questions.
User-generated content — Social proof that your business is helpful to others.
Videos and podcasts, so you can provide your audience with extra tips, tutorials, and stories.
Implementing all of these content types at once is overwhelming. To decide which of the listed types suits you the best, check out this article:
---
WHAT IS CONTENT STRATEGY IN WEB DESIGN?
Remember, the visual side of the content will bring your message to life through a sales funnel. Content marketing for web designers is inseparable from the design itself.
No matter the importance of your message, your readers should primarily feel attracted to interact with the content.
Enters user interface design.
To start simply, your should adjust elements like color or typography.
While content provides value to your customers, colors should put them in a certain mood. You should target your customers' emotional-attachment purchase behavior.
Colors should be compatible with the tone of your words. They represent the emotion you want to express to your customer.
In terms of content marketing for web design and UI, you should also pay attention to:
Navigational components are slides, icons, tags, hashtags, search boxes, and tab bars. Your audience should easily navigate and find content on the website.
Containers are storage units to group content and display multiple subjects and functions on a screen.
Informational components are tooltips, progress bar, notification, and message boxes. You need to share information with your readers effectively.
Input controls are Call-to-Action or other buttons, checkboxes, dropdown lists, and text boxes. Your readers should give you their information after consuming the content.
UI elements should be aesthetic and appealing as a part of the content marketing strategy. But you should also ask yourself about user experience design.
Your content should be well designed, structured, and functional according to your user's needs and behavior.
Example 1: Your navigation components can be aesthetic, but if they're not revealing the content in a useful way, readers will get frustrated and drop out of your website.
Example 2: Your Call-to-Action button may be appealing, but nobody will click on it if it's not positioned well.
HOW DO CONTENT MARKETING AND WEB DESIGN IMPROVE USER EXPERIENCE?
A content marketing strategy that targets your audience and pairs it with web design techniques can improve the user experience on your website.
Here are some things you should do to integrate content marketing and web design into a good user experience strategy:
Define your ideal buyer's persona. Their needs, problems, interests, age, and virtual places they're visiting will be your best marketing guide.
Then map out the whole buyer's journey from interested observers to loyal buyers.
Think about the emotion and behavior you want to elicit at every journey step.
Build your brand identity. Your values, tone, emotions, purpose, and word use should be consistent at every step, so your customers can feel connected to you.
First, create a content strategy that targets search intent, and conduct proper keyword research.
After creating a narrative, define visual design aspects that will be compatible with it.
Implement those visual aspects to your website. Think of how your customers would like to consume the content on the journey.
Be consistent and post regularly. 81% of people describe user experience as bad if well-designed content is outdated.
User experience is an important factor for Search-Engine Optimization performance. Check out our article to see which metrics Google Analytics uses to measure User experience.
---
WHAT ARE THE 3 COMPONENTS OF CONTENT STRATEGY THAT MATTER TO WEB DESIGN?
Now that you understand the importance of content marketing for web design, below you will learn three main content marketing tactics.
You must have them in mind while designing your website.
1. USER INTERFACE (UI)

Regarding UI as a part of content strategy, some good web design tools for entrepreneurs can help your design work. Here content and design merge showcasing how content marketing for web designers work.
Still, here are some ground rules of UI you should keep in mind.
Keep it simple and minimalistic.
Don't overload your web page with UI elements like long headings, unnecessary images, old backlinks, or too many pop-up windows. It will overwhelm your visitors' cognitive load.
Let your visitors feel like they're in control.
Readers don't like surprises while finding a solution for their problem. Unwanted interactions and confusing navigation are frustrating.
Having a responsive UI design is a must.
Your content should automatically respond to readers' behavior and environment.
The best design is the one readers don't even notice.
Don't show off your design skills. The point of UI is to make readers stay focused on the content.
---
2. MESSAGING AND BRANDING AS PART OF THE CONTENT MARKETING STRATEGY
Branding is a continuing process, and these two content marketing strategies are of great help to entrepreneurs:
Social media marketing campaigns
Email marketing campaigns
With good social media management, you can keep your audience posted about everything your brand does. Branding, when consistent, encompasses content marketing for web designers.

Social media posts are a great way to keep up with your customers' needs and interests.

Example: You're writing a nutrition blog and looking for new content ideas. Social media can reveal what type of diet your audience is interested in right now.
Email marketing is an ideal place for your design-led content to shine.
Use newsletters to share your brand story and to keep them posted about any new occasion.
Email marketing is about personalization. The headline, templates, color, and content should show that you know your subscribers.
---
3. MARKETING FUNNELS
Marketing funnels help you map your content strategy throughout the buyer's journey.
From the moment your audience notices your business until they purchase, your prospects are going through some stages.
Your content should follow those stages to support your customer.
First is the awareness stage.
At the top of the funnel, your main goal is to build brand awareness, educate and generate interest. At this stage, your content types are:
Blog posts
Landing pages
Infographics
Newsletters
E-books.
The second is the engagement stage.

The goal here is to turn the interested visitor into a customer. You want to put yourself as an expert at solving your audience's needs since that is why they came to you.
Surveys
Offers and discounts
Emails
Webinars.
And the third one is the conversion stage.
At this stage, your leads are ready to become new buyers. To goal here is to keep them as loyal and trusting customers. You can give them a little nudge with:
Customers stories
Promo codes/discounts
Testimonials
Competitive comparison
It's important to be data-driven. Conversion rate metrics like ROI will measure your success and show you what percentage of the audience became buyers.
Also, you can track on which one of the stages the audience got stuck and left the buying journey.
The data will help you optimize your landing pages and website.
---
IN CONCLUSION
If you're an amateur designer or a one-man-show entrepreneur, content marketing management for web design can be challenging.
Luckily, with our help, you can build an excellent website.
Aleph Website will understand your goals in no time. We'll bring you excellent web solutions at low prices.
---
Suggested Reads
---
about the author